Meet Our Legacy Society Members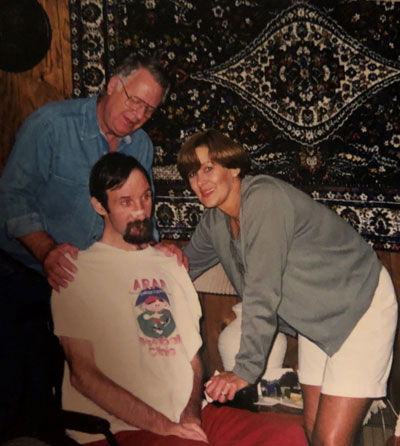 Linda Thompson (ALS Legacy to Joe)
My youngest brother of five, Arnold Joseph Hose, was born in Rockford, IL on August 16th, 1959, just a week before our Mother's birthday. From the day he was born, he was special. He was the happiest baby, toddler and adult I had ever seen. Even when he was 17 and we lost our mother to suicide as she could not handle the struggles of colon cancer, especially after losing her own father to the disease when she was 14. Joe, as he was called, could take any situation and turn it into a positive experience. Joe always had a passion for fishing and that remained right up until he could no longer hold the pole. He was happiest beside any body of water, large or small and he always caught fish where others struggled.
After Joe graduated high school, he joined the US Army and traveled the world for four years. He met his wife In the Army and eventually, they settled in Arab, AL, where Joe worked as an auto mechanic and a carpenter. They raised two beautiful daughters and became active members of the local church. In 1996, Joe began having issues with holding his carpenter tools. This began a year of frustrating doctor visits, from one to the next, to find out what was happening. But Joe never gave up nor did he share his struggles with anyone except his wife and me. On May 15th, 1997 I was blessed with the birth of my first grandchild, Caleb. The only time I had ever felt such joy was the day my own daughter was born. My joy was cut short with an early morning call the next day from Joe. He had gotten the results of the muscle biopsy the day before. The medical team was finally able to rule out Lupus, MS, Lyme's Disease, and a myriad of other options, and diagnosed Joe with ALS. He was given 6 to 12 months to live. He informed me that he had signed a DNR and asked that I please honor his wishes and make certain everyone else did as well. That's the day that I became very familiar with Google and the internet. I just could not believe that no matter where I turned in my research, the results were always the same. Absolutely no cure and furthermore, absolutely no idea what caused this disease. As a veteran, Joe had to rely on his VA benefits and was forced to wait six long months before he would even receive Social Security Disability. He was the sole supporter of his family and this all seemed so unfair to him. But he never lost his patience or sense of humor or gave up hope.
He quickly began falling frequently, especially down the stairs from his bedroom. His fellow Christians stepped up and added a first-floor bedroom and handicapped accessible bathroom on the ground floor for him. Even though I lived in Minnesota at the time, I drove down several times to assist. Given the diagnosis and the time he had left, I flew Joe to Minnesota in October to allow him to get to know my grandson Caleb. In that short five-month period, he could no longer fasten his pants or hold silverware without assistance. Joe was a huge NASCAR fan, so I took him to the Mall of America, so he could drive in an actual simulated NASCAR race. His two brothers and one sister, plus nieces and nephews from Illinois, joined us for the weekend, knowing this was to be a weekend for Joe to remember forever. The months went by quickly after that as ALS quickly took over his life and his body. He lost the use of his arms and hands first, then his legs. His speech was going very quickly as well. He loved to read but could no longer hold a book or turn the pages. But books on tape became his refuge as well as his music. He lived mostly on liquid supplements as he quickly lost the ability to chew food. Needless to say, when he was given 6 to 12 months, the doctors had no idea the strength of the Joe. He never once shed a single tear or felt sorry for himself and he always said he was going to be the one that survived. He also never lost his faith in God, knowing He would always take care of him. I spent Memorial Day week with Joe in 1999, by myself, and wouldn't trade it for anything. He had already outlived the doctors' expectations but never gave up. That week, we watched the Indy 500 together from his bed and had lots of laughs together. It seemed like playing charades together put his words into meaningful sentences. The staff from the Arab Hospice center were truly his lifeline for several months. Before I left that week, I was told by Hospice that he had about three months left. Unfortunately, Joe got a kidney infection the next week and his kidneys quickly failed, blinding him and requiring hospitalization. I, my siblings and Father immediately drove to Alabama. We arrived on Wednesday afternoon, June 16th, 1999. I walked into his room and told him I was not done hugging and kissing him yet, and he chuckled. That was the only time I witnessed a single solitary tear escape his eyes. I remained with Joe the rest of the evening and all that night. Later that night, he slipped into a very peaceful state and I sat beside his bed all night and prayed with him and for him and talked to him. The family returned the next morning to check on him. I remained with him after they walked outside and about 10 minutes later, he passed away. God works in mysterious ways as Joe went home on June 17th, 1999, the very same day that Mother passed in 1976 and our great grandmother passed in 1987. All three were very warm, loving, spiritual people just like Joe. His diagnosis of 6 to 12 months turned out to be 25 months and 2 days.
Not a day goes by that I don't miss him and marvel at the way he handled this disease, right up to the end. Since that time, I have met others afflicted with ALS, and they all have that same attitude and hope and love. According to medical experts, it's the only disease where this optimism exists among the patients.
It is my hope that a cause for this disease along with a cure will happen, even if it's not in my lifetime. And I want to help in any way I possibly can to make sure that this happens, therefore I have chosen to leave my entire estate to ALS Research. From everything I read I know that great strides have been made and researchers are getting closer every day. I love you Joe!