Meet Our Donors
"Fight it. Don't give in."
Carol Shaw (Her Gift)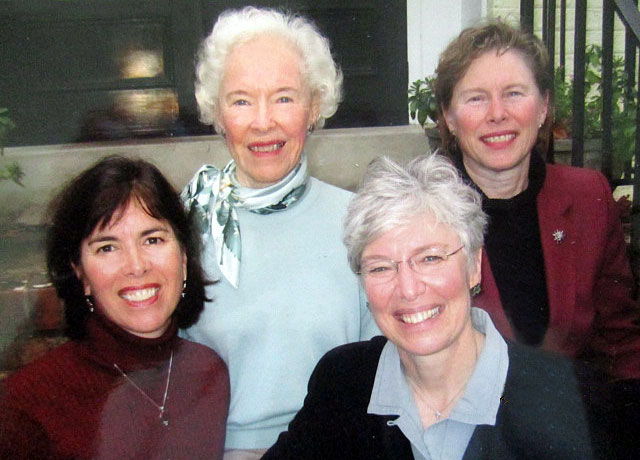 Carol Shaw (second row, right) with her mother and sisters
Richard (Dick) Eldred Morgan, was born in October of 1921, in Binghamton, NY. When WWII began, he enlisted in the Army Air Corps and would soon become a pilot, flying B-24 bombers over the Philippines.
During a break in training, two hometown families decided to play matchmaker. They introduced Dick to a young lady from Utica, NY, named Ruth. It was love at first sight... In their case, the match was a good one, and their marriage lasted a lifetime.
When Dick returned from the war his father-in-law passed the family business – Hemstrought's Bakery – to his son and his son-in-law, Dick (The Contract of Sale is a family treasure: ownership passes to them "for $1.00 and their LOVE").
The years flew by...Forty-eight plus of marriage and three daughters later (plus 7 grandchildren and 12 great grandchildren) gave Dick and Ruth great pleasure.
Eventually Dick and Ruth retired to Virginia, to enjoy a more leisurely lifestyle near Williamsburg.
Dick's daughters recall him often saying during their childhood that he had never been sick a day in his life... and he never took aspirin or other medications.
Approaching 70, however, he began to notice changes in his body. Eventually, at Ruth's insistence, he saw his physician.
After lengthy tests, the diagnosis was ALS.
Ruth was able to keep him at home and care for him herself out of the strength that love provides. While Dick's body weakened, his mind was keen. He died at age 71, a few days after a full entourage of family had been with him for Christmas.
When Ruth's Charitable Remainder Unitrust (CRUT) terminated, their daughters wanted to honor their father's fight by making a gift from the CRUT to The ALS Association.
His daughters' can still hear him today, saying "Fight it. Don't give in."
That was Dick's motto and it should be ours.